Release Date: April 20th 2017
Goodreads
Source: NetGalley eARC
Remember the days when, for the vast majority of workers, a job was (at best) a means to a paycheck and (at worst) total drudgery? When you had blindly to scour the web for generic job postings? When work was actually 9-5, five days a week, and your clients or your boss couldn't reach you unless you were in the same room, near a wall-installed phone? Or when a career trajectory was scripted and linear: find a good job at a stable company, impress your boss and climb the ladder, and after 30 or 40 years, ease comfortably into retirement?
My how the times have changed! Today, passion and purpose are the starting point for laying down the foundation of a meaningful, successful, long-term career. The web is rife with useful resources for job seekers, and we are connected to vast networks of people who bring us more information than ever. We are constantly just a text message away from work and being available 24-7 is the norm. Most of our careers will zig and zag; we will have many roles in many companies in our lifetimes sometimes staying less than two years at the same job and a large number of us may even venture out and start our own.
So why do most career advice books on the shelves today still offer advice tailored to the old way? The rules have changed: people don t discover or apply for jobs the same way, and employers don t find and evaluate applicants the same way either. Moreover, in a world where business is global, technology has given rise to niche positions that never before existed. Our career options have broadened more than ever.
If only we had a rule-book for navigating them all.
In this definitive guide to the ever-changing modern workplace, Kathryn Minshew and Alexandra Cavoulacos, the co-founders of popular career website TheMuse.com, show how to play the game by the New Rules. The Muse is known for sharp, relevant, and get-to-the-point advice on how to figure out exactly what your values and your skills are and how they best play out in the marketplace. Now Kathryn and Alex have gathered all of that advice and more in The New Rules of Work. Through quick exercises and structured tips, the authors will guide you as you sort through your countless options; communicate who you are and why you are valuable; and stand out from the crowd. The New Rules of Work shows how to choose a perfect career path, land the best job, and wake up feeling excited to go to work every day– whether you are starting out in your career, looking to move ahead, navigating a mid-career shift, or anywhere in between.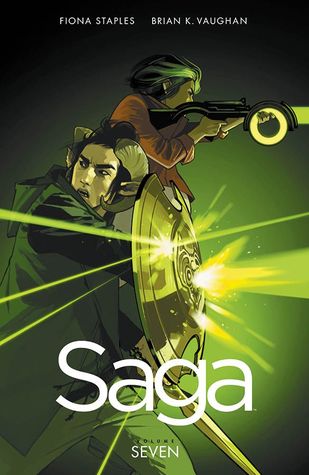 Release Date: April 4th 2017
Goodreads
Source: Paperback purchased from Waterstones
From the worldwide bestselling team of Fiona Staples and Brian K. Vaughan, "The War for Phang" is an epic, self-contained Saga event! Finally reunited with her ever-expanding family, Hazel travels to a war-torn comet that Wreath and Landfall have been battling over for ages. New friendships are forged and others are lost forever in this action-packed volume about families, combat and the refugee experience.

Collecting: Saga 37-42

Release Date: May 4th 2017
Goodreads
Source: Paperback from Stripes Publishing
The humans of Nothingon-on-Sea have no idea their sleepy town is a hot spot for space invasions, and it's up to secret agents Biskit and Mitzy to keep it that way. So when an army of alien beards arrives, the Pet Defenders need to act fast… If the Beard King gets his way, soon every living chin will be under his control. Things are about to get hairy!