Books Finished
Release Date: February 10th 2015
Goodreads
London, 1882: Queen Victoria appoints Harold Spire of the Metropolitan Police to Special Branch Division Omega. Omega is to secretly investigate paranormal and supernatural events and persons. Spire, a skeptic driven to protect the helpless and see justice done, is the perfect man to lead the department, which employs scholars and scientists, assassins and con men, and a traveling circus. Spire's chief researcher is Rose Everhart, who believes fervently that there is more to the world than can be seen by mortal eyes.

Their first mission: find the Eterna Compound, which grants immortality. Catastrophe destroyed the hidden laboratory in New York City where Eterna was developed, but the Queen is convinced someone escaped–and has a sample of Eterna.

Also searching for Eterna is an American, Clara Templeton, who helped start the project after the assassination of Abraham Lincoln nearly destroyed her nation. Haunted by the ghost of her beloved, she is determined that the Eterna Compound–and the immortality it will convey–will be controlled by the United States, not Great Britain.
Release Date: April 6th 2017 (originally February 28th 2017)
Goodreads
Sixteen-year-old Starr lives in two worlds: the poor neighbourhood where she was born and raised and her posh high school in the suburbs. The uneasy balance between them is shattered when Starr is the only witness to the fatal shooting of her unarmed best friend, Khalil, by a police officer. Now what Starr says could destroy her community. It could also get her killed.

Inspired by the Black Lives Matter movement, this is a powerful and gripping YA novel about one girl's struggle for justice.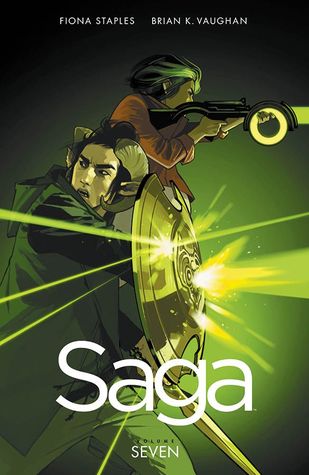 Release Date: April 4th 2017
Goodreads
From the worldwide bestselling team of Fiona Staples and Brian K. Vaughan, "The War for Phang" is an epic, self-contained Saga event! Finally reunited with her ever-expanding family, Hazel travels to a war-torn comet that Wreath and Landfall have been battling over for ages. New friendships are forged and others are lost forever in this action-packed volume about families, combat and the refugee experience.

Collecting: Saga 37-42

Release Date: May 4th 2017
Goodreads
The humans of Nothington-on-Sea have no idea their sleepy town is a hot spot for space invasions, and it's up to secret agents Biskit and Mitzy to keep it that way. So when an army of alien beards arrives, the Pet Defenders need to act fast… If the Beard King gets his way, soon every living chin will be under his control. Things are about to get hairy!
Books Read

Currently on 34%.
Release Date: April 6th 2017
Goodreads
What would you do if your closest friend tried to steal your life?

A chilling new novel from the prize-winning author of No & Me – a Richard & Judy Bookclub selection

Today I know that L. is the sole reason for my powerlessness. And that the two years that we were friends almost made me stop writing for ever.

Overwhelmed by the huge success of her latest novel, exhausted and unable to begin writing her next book, Delphine meets L. L. is the kind of impeccable, sophisticated woman who fascinates Delphine; a woman with smooth hair and perfectly filed nails, and a gift for saying the right thing. Delphine finds herself irresistibly drawn to her, their friendship growing as their meetings, notes and texts increase.

But as L. begins to dress like Delphine, and, in the face of Delphine's crippling inability to write, L. even offers to answer her emails, and their relationship rapidly intensifies. L. becomes more and more involved in Delphine's life until she patiently takes control and turns it upside down: slowly, surely, insidiously.

Based on a True Story is a chilling novel of suspense that will leave you questioning the truth and its significance long after you have turned the final page.

Currently on page 133 of 535.
Release Date: February 13th 2014
Goodreads
There are some far-fetched rumours about the caverns beneath the Citadel…

Some say the mages left their most dangerous secrets hidden there; others, that great riches are hidden there; even that gods have been imprisoned in its darkest depths.

For Lord Frith, the caverns hold the key to his vengeance. Against all the odds, he has survived torture and lived to see his home and his family taken from him … and now someone is going to pay. For Wydrin of Crosshaven and her faithful companion, Sir Sebastian Caverson, a quest to the Citadel looks like just another job. There's the promise of gold and adventure. Who knows, they might even have a decent tale or two once they're done.

But sometimes there is truth in rumour.

Soon this reckless trio will be the last line of defence against a hungry, restless terror that wants to tear the world apart. And they're not even getting paid.